Sorry to miss this week! I am in the middle of moving house… massive relocate. Hopefully I'll see everyone at the next one and be at least available.
KM
At the last session we established a kind of standing agenda for the sessions and spoke to the context for the initiation of this work at Resonate.
Today I'm hoping we can begin to outline a long-term, continuing process for learning to identify and work against white supremacy in our co-op spaces.
Here are notes for today's session and the last one (May 5).
I'll be there in 15
I'm suggesting folks take a look at the GOOD WHITE PEOPLE link in preparation for the Session June 2. Let's also budget 30 mins to discuss other texts and references and perhaps begin the work of setting out a course of objectives and patterns for these sessions across the next few months.
Link to meeting above. All are welcome.
Rolling Session Notes: Link
Suggested reading from the June 2 session.
Often cited as the introduction of a critical "identity politics" and concepts of "intersectionality" (though the term is not used).
The session was a sometimes clumsy conversation about being together, trust, time, labor, confusion and emotion. We considered Resonate's journey from both a technical, software development point of view as well as that of planetary peoples caught in a genocidal system of value.
Tangent: Does the passion for projects like DAOs come from a desire to eliminate the messy, awkward parts from human interaction? What if that mess is the fertile soil of human being? Are there alternative strategies that build social capacity from this compost?
Context: Article shared by @psi at today's session.
Reminded of this question while reviewing this video of a recent performance by Baynard Woods reading from his forth-coming book INHERITANCE: An Autobiography of Whiteness at a local arts festival in Baltimore, USA.
Video: Baynard Woods reading from Inheritance at SoWeBo festival - YouTube (apologies for extractive link to an Alphabet Inc. property.)
For context and discomfort, here is a 'thumbs down' review of Baynard's book.
---
Baynard's topic reminds me of a book in the Black Socialists in America library that @zetto.plus recommended to me many moons ago: THE INVENTION OF THE WHITE RACE by Theodore W. Allen (1994).
A two volume set. It's a fairly substantial work (lots of pages).
Would you be interested to read it with me in conjunction with these sessions over the next year? We could go at a pace of about 30 pages every two weeks.
Perhaps there are other readings of this nature that would preferable? Let's discuss at the next session.
Suggested routine:
Greetings.
Discussion of a text or document.
Discussion that connects reflections to the specific work of dismantling white supremacy at Resonate. How can the work be taught?
Wrap-up: Announcements and next steps.
A question: Are you someone who would like to participate in live sessions but wish they were at a different time of day? Please comment in the thread. Perhaps accommodations can be made.
Here's a really interesting presentation setting some context for the term "identity politics" and how alternative readings of The Combahee River Collective Statement have been weaponized to reinforce reactionary defense of the present social order of domination, exploitation and repression.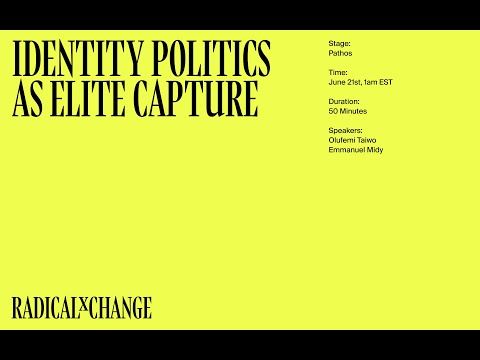 I am super familiar with Femi's work, and I can make myself to be available or even have some guiding questions to assist with discussion- Diane
Unfortunately, I've started a new work schedule that won't permit me to attend tomorrow.
So, after a break, the next session will meet July 14.
Thank you @ode12 for your offer to help organize the next session.
And thanks to all for your interest and understanding.
I found this workbook today and have been reading through. The methodology seems relevant to our work, even if the specifics are sometimes tangential.
Hey hey,
I am excited to take on these sessions into the next month, but I am also curious about scope and discourse into the next month around some of these topics. Let me know if you are planning on joining tomorrow!
I was thinking of dropping in. Is there anything I should read before the session?
I'll be joining after the Board meeting, probably about 30 minutes late.
Ok great! @tshiunghan in that case we will start 15 after the top of the hour to make sure we make space for Rich to plug in. See you both soon!
Is that going to be 6:15pm UTC?
4:15 UTC! feel free to join in when/if you can- the meeting ends at 5:30 UTC. Ill be on standby