+1 to this, I am doing something similar for the zapier bot.
Just finished recording the show for broadcast on 19th June 2022 6pm CET on https://listen.camp
Featuring tracks from Smoking Data Guns, Cravune, Wild Couch, Glame…, salad outfit, studio fatal, Fenton, The Black Dog, TREMOSPHERE, Karen Vogt, ‡Starving Poet§, Brian Higgins, sokker, boule à facettes, Coldcut & On-U Sound featuring Lee "Scratch" Perry, Junior Reid and Elan, Markit Zero
Guest appearances from Michael and @Sylvia from TREMOSPHERE.
Playlist:
Resonate Playlist (2022-06-19)
Great to have Michael and Sylvia contributing.
Spread the word and if anyone wants to record a short piece for next time please get in touch.
p.s. I already have a thing from Michael for his Bipolar Explorer project!

thank you so much!
I hope you don't mind that I'm including these in the rotation of the featured playlists on beam just to add a bit of variation on the home page!
Resonate on CAMP - July 17th 2022 - 6pm CEST
The best of the new releases on Resonate.
Featuring tracks from A. Vos, emho, Isaiah Diaz, Manja Ristić, Machinefabriek, studio fatal, Midnight French, mejiwahn, Adder, junklight, Bipolar Explorer, LUCA, hojascirculares, Digital Nap, Mary Remington, and GRST.
Brilliant insight into what's new on Resonate, as ever! Keep up the great work
A. Vos and LUCA are some of my favs I've discovered through Resonate. Mona is an album by LUCA that I look forward to coming here. Bandcamp for now, but such lovely stuff.
Shout out to Machinefabriek as well. I remember getting the email from him when he first arrived here. Was delighted to welcome him and upload his first albums.
just finished listening to this month's show, excellent selections, David, and thank you again for featuring Bipolar Explorer
Thanks @Sylvia - the show pretty much writes itself, so I can't take too much credit - but it's appreciated.
It's so nice when people get involved, and it's so nice to hear their speaking voices, and what they have to say, so thank you for getting involved.
If anyone else wants to come on to recommend a track and/or tell us about their music that is always an option, just get in touch.
Hello folks - the next radio show is broadcast on Sunday 14th August 2022 at 6pm CEST on CAMP Radio.
Featuring: das spezial, I and Blue, Lara David, Manja Ristić, Maya B Fury, Bipolar Explorer, The Black Dog, dmslushi, Mundy, Sonia Erika, Alex Riggs, Gurley, Stuart Wilson, Loraine James, Battery Operated Orchestra (BOO)
Built from this playlist: Resonate on CAMP Radio 14th August 2022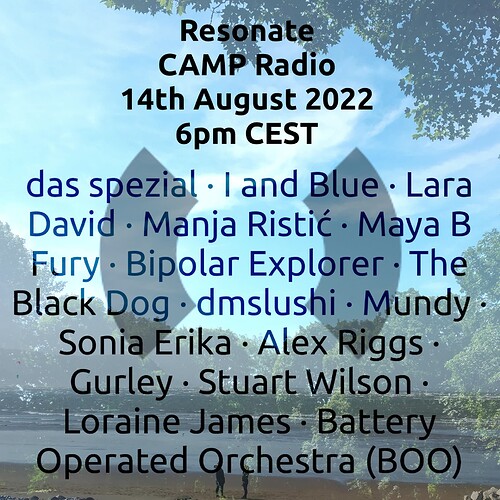 Resonate - September 11th 2022 - 6pm CEST on CAMP Radio
Next Show is broadcast on 11th September at 6pm CEST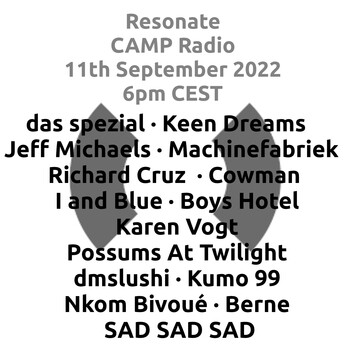 Featuring tracks from das spezial, Keen Dreams, Jeff Michaels, Machinefabriek, Richard Cruz, COJU, I and Blue, Boys Hotel, Karen Vogt, Possums At Twilight, dmslushi, Kumo 99, Nkom Bivoué, Berne, SAD SAD SAD.
The show is built from this Resonate Playlist.
Hello - after missing a month, Resonate on CAMP Radio is back:
November 6th 2022 - 6pm CST
The best of the new releases on Resonate.
Featuring tracks from Aman Harwara, paun, DJ James Naughty, I, The Current, das spezial, Keen Dreams, Possums At Twilight, Jeff Michaels, Smoking Data Guns, Mx Aaron Marie, Contemplator, Zanias, catfugue, DELUJN, Kraków Loves Adana.
Playlist: Resonate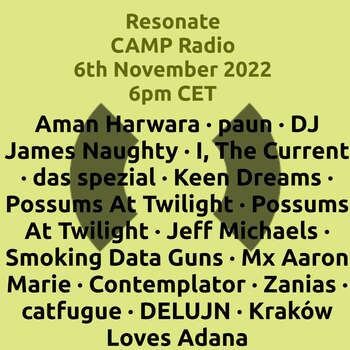 Thank you for including my music.
Next Radio Show on CAMP Radio is Sunday 4th December 6pm CET.
Tracks from Tami Mulcahy, SPARTALIEN, Jessy Lanza, Karu, BREADMACHINE, WIREGRRRL, Alex Griffiths, w_lf, ‡Starving Poet§, William Chernoff, LUCA, COJU, Soft Idiot, Feral Five, And The Golden Choir
Playlist: Resonate Playlist (2022-12-04)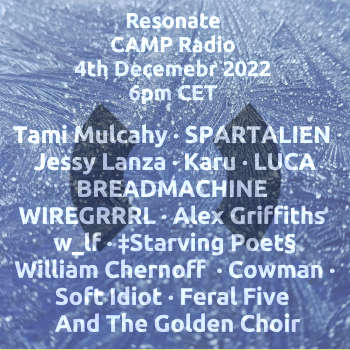 I have new music coming out very soon, it's just a single. How do I get it to ya?
Hello. Nice to hear from you @KallieMarie - Just send me a link when it's on Resonate.
And I really like it when people also recommend someone else, so if you want to link to another track that would be good.
If you want to record an intro or anything like that again you can do as well.
Looking forward to hearing it. Hope life is good,!
Will do, its out Wednesday and I know the team here have been hard at work sorting out uploads and files etc. Let me know when you'd need an intro by? I'd love to recommend some one but I dont know if I will have time to search through people. There are a lot of artists I would LOVE to promote, but I dont know if they are here. I often send artists here and hope they make it over.