@catalog Hey all, just a note that @auggod and I have gone over the current state of track embedding. A few things there
There was an outstanding bug that's preventing it from working which @auggod has fixing
I'm going to work with you guys on embedding as it's particularly relevant to the comms side of the aunch. On that front there are two broad areas we need to chat about
Embed UX
Currently the embed UX looks like this
Click the menu button (three dots beneath the album art), then click "Share"


Copy the embed code
End result (this is that track embedded here on Discourse
For comparison, this is Soundcloud
Share & embed modal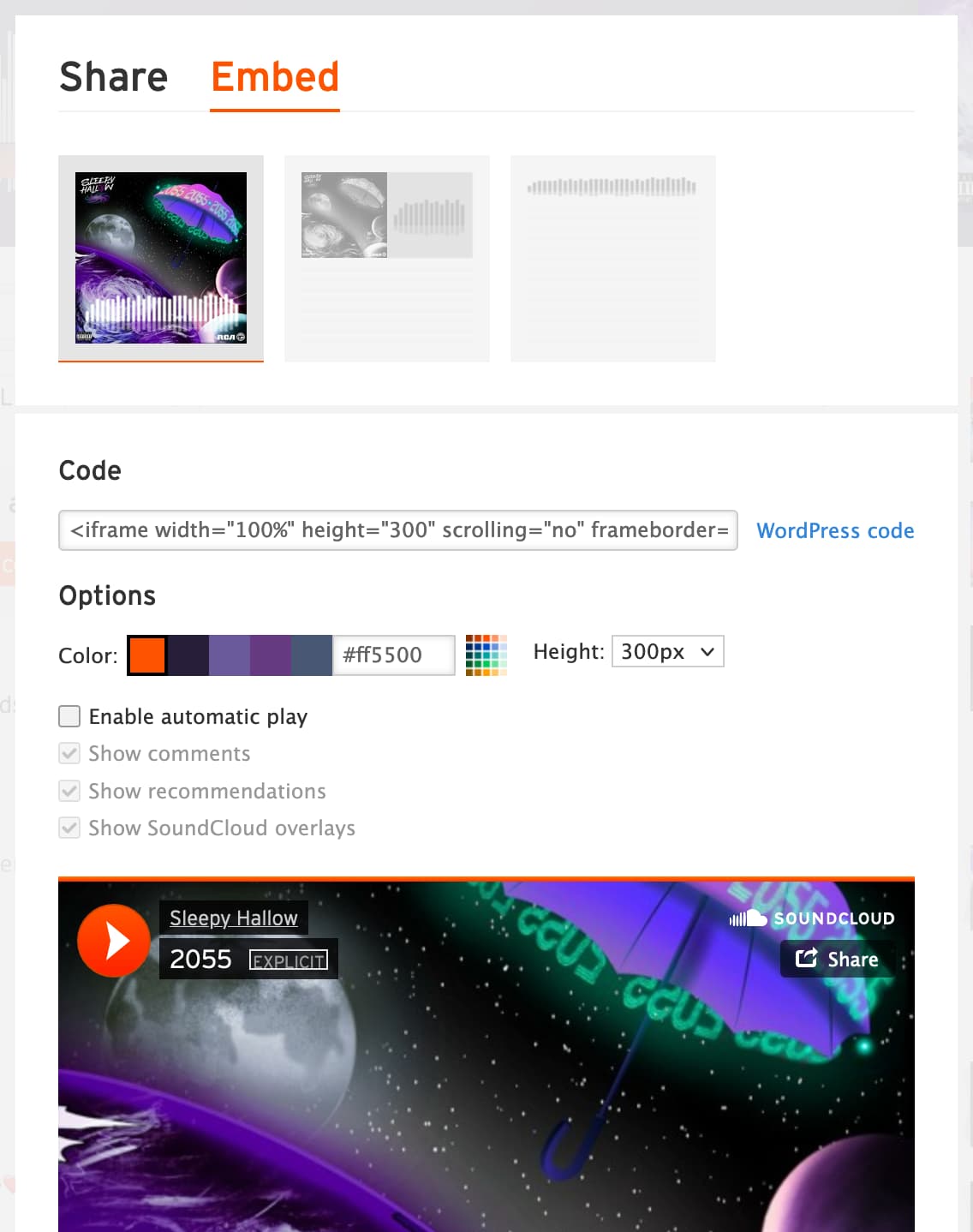 End result, embedded here on Discourse
https://w.soundcloud.com/player/?url=https%3A//api.soundcloud.com/tracks/1026185437&color=%23ff5500&auto_play=false&hide_related=false&show_comments=true&show_user=true&show_reposts=false&show_teaser=true
*** Edit I can't actually get the soundclound embed to work (well at least) on discourse! interesting… this goes to the context question raised below.
Questions
What do we want to improve about the finding the embed code?
What do we want to improve about the embed player itself? (i.e. what shows up for the embed)
Embed Contexts
As well as looking at the embed UX directly, we also want to think about our target embed contexts as different platforms handle embeds differently.
@melis_tailored what would you say are the top 3 embed contexts that matter in terms of sharing tracks?
Would it be much more complicated to be able to embed a release, not just a track?
Morning.
The soundcloud embed seems to be showing on my computer. But it's the size of my whole screen.
A few things - we need embeddable tracks, releases and playlists. All 3 are essential - only a release does nothing, we need the player fully embeddable in all contexts for this to have any affect on our organic musical spread.
I think if people aren't used to being able to share embed from resonate - we need to highlight it better than just the share link you've shown above. As you've shown - soundcloud make it very obvious - but so do spotify (lots of different options) and bandcamp (placed under the artwork on every release).
It's how people spread and share music, what can we do to highlight our capabilities and get them to share with resonate over the others… colours/ pop ups/ dedicated buttons. Also changing share to share/embed. I will also highlight on socials etc, but within the site is key.
Also really important is the size of the embed. Soundcloud give 3 different options - we should also have a large and small option for different websites and uses.
Main embed contexts for FANS - discord, twitter, IG, facebook, wordpress.
For artists - linktree, fanlink etc, facebook, IG, twitter, wordpress, ghost, patreon etc.
Guess we should also be looking at things like currents - ensuring that they can embed our links and eventually pull tracks direct for playlisting. I can test embed codes on currents.
If you need to test embed codes - just send to me and I can use it over all the different websites and socials that I control.
Hi hi, just to be sure - what time is the meeting? 15:00 CET?
@catalog Thanks

September 29
To dos
Embeds
@angus will work on the UX of embeds

Improve placement of button
Improve UX of embed modal
currents = https://a.currents.fm/
Newsletter
Process for adding to newsletter
Send @melis_tailored for inclusion

@melis_tailored will compose and send
Tshirts
Logo design: https://www.figma.com/file/6WVq6XSE1vyNtZ5lJOVysv/Logo?node-id=0%3A1
Logo pngs: https://www.dropbox.com/sh/bxfhl48mpr82hd7/AABtwGau-MCLcvdA_GMB9aYxa?dl=0
Apologies all! I hadn't registered the earlier time.
Done in the latest version of the signup process… together with suggested tiered pricing for 'packs' of credits. The 'credit chooser' is a simple dropdown list of packs, starting with the 1 hour only for free. They return to the profile and the chooser if they want to come back for more.
Credit packs are priced as follows (both in the credit chooser and in stripe product pricing). The more you get, the better the unit value for money:
0.03 Credits - for FREE = 1 hour of exploring
Buy 5 credits for €7 = typically 16 hours of listening
Buy 10 credits for €12 = typically 32 hours of listening
Buy 20 credits for €22 = typically 64 hours of listening
Buy 50 credits for €50 = typically 128 hours of listening
(Projections are based on historical analysis (90k plays) at an average cost of €0.026 per play and a track duration of 4 minutes on average. 1.022 credits = €1.25 = price of typical old skool download.)
Does that work?
(NB the local currency conversions are performed at checkout when a paid pack is chosen)
Nick
Thanks Angus.
I am wary of including the featured playlist competition in the newsletter.
I discussed this with @richjensen last night and I'm going to try to share some of my concerns with you now…
A competition is setting a precedent, we haven't communicated via newsletter in years and as a community based on cooperation, inclusivity, diversity etc it feels completely off to be promoting a competition. What does that say about who we are? That we are actively forging a path with "winners" and therefore "losers" in music.
In general, the idea of competitions to highlight music is ethically wrong - art is not a competition - and what I understood to be the complete antithesis of what we want to build as both a platform and community. It's written in our manifesto that has already been agreed by the board.
From a marketing and communication viewpoint… It also feels too basic - while I appreciate it has been decided and will go ahead as a first trial, to highlight it in the newsletter or our socials is something I am strongly against. I would hope that this quickly evolves into something more thoughtful and in keeping with our ideals.
I would like to be involved in the conversation about how we can creatively do better - this is a conversation that involves both tech, community, marketing/comms/story - how will the playlists be highlighted and presented long term, what does collective patronage look like and how can we achieve this within resonate and the music ecosystem, how can we level the playing field for all, how can we elevate the unheard or ignored, how do we encourage discovery and participation in new scenes, right up to the core issue of what is the value of music and art. etc.
It's the most exciting and vital problem to solve - where we can take the best of tech and the best of human discovery. We can already see examples of this being done well - at bandcamp for instance (where they also do it badly in the form of bandcamp daily but still better than all the other DSPs), and from these starting points we can probably do even better as we are intentionally building to be ethical, fair, inclusive, just etc…
I saw from the thread that one of the reasons that was decided to do a competition is to "reward" members - but they are already being rewarded by being a part of the coop! Transparency, participation, ownership, governance are the rewards.
If we want to incentivise people to engage and share, it has to be more complicated, deeper and meaningful than a competition or picking favourites. And to highlight a single playlist is, again, against our own manifesto.
I can suggest a quick fix - rather than it being a competition for any playlist, it could be made into a discovery playlist. A discovery playlist would be made entirely of music the curator has discovered on resonate, no friends or relatives, sounds outside their comfort zone or regular listening habits that they want to share with the community. Something like this would slightly better fit our ideals. It would be created with care and intention to push discovery and exploration - therefore in keeping with our values.
I don't expect that to be done now, and honestly we can probably do even better - but criticism delivered without proposed solutions or steps forward is obviously unhelpful!
I am happy to share this on the main thread - but perhaps you, rich, @Hakanto @brndnkng could discuss further first?
Melissa
I see where you're coming from. We should discuss this with the community team who have been formulating the project. Happy to leave it out of this newsletter to give us time to debate this further.
Not everyone can see this category, so if you could sum up your thoughts in the topic below. Then we can come to a landing on this as an organisation. It'd be best if you sum up your thoughts directly rather than being mediated through other folks I reckon.
https://community.resonate.is/t/community-team/1749/48
The "teams" don't have exclusive jurisdiction over their initiatves, and it's definitely intended for anyone in the co-op to weigh in. Let's do that now.
Once we come to a landing on the question, we'll need to adopt a decision (do it in some form, or not) for some clarity. But, definitely, let's hash it out.
@melis_tailored To help facilitate the feedback on the playlist competition, I've broken out the relevant discussion from the main community team topic into a seperate topic so you can see how we got there.
I think Cristina (boopboop, who can't see this category), who lead that intiative would be receptive to restructuring the concept in some fashion as she did allude to the issue you've raised on one of our calls. I reckon if you give the feedback there it'll be well received.
As you say, at the end of the day, the main goal is to encourge folks to create playlists and engage with Resonate's music.
@melis_tailored is there anything @sganesh and I can do to help with the newsletter? Happy to do any copy editing or mailchimp-fu as needed.
I think once we have @richjensen paragraph and the everpress set up, we'll be ready to go… aiming for tomorrow now.
If you could all have a quick read, send me any links, clarifications and additional text - please comment in the doc