This session is over. Thanks for all who came out! Keep an eye out for the next one on September 17th.
Resonate Framework Session 1 Recording
Timestamps:
1:00-25:00 - Presentation: How a framework can help us
25:00-40:00 - "Intermission": Breakout rooms privately discuss work patterns at Resonate
40:00-54:00 - Breakout rooms return and share what they discussed
54:00-1:10:00 - Presentation: The Kielest framework - A bird's eye view
This session we'll explore how a framework like Kielest will help us achieve our mission. Why have many volunteers left after only a short time? Why have so few of those who have expressed interest been onboarded? Where have the problems been?
A premise of Kielest is that problems are more structural than personal. By coming together, we can explore and identify patterns which have created problems. Kielest's goal is to replace these negative patterns with new positive ones.
After the call, we'll have some open social time on Topia where folks can casually chat about their experiences at Resonate, discuss Kielest, and get to know each other. The link will be posted here after the call.
What is Kielest
Hey y'all, I'm Hakanto, one of the @directors on the Board at Resonate. I've served in many working roles at the co-op – often too many at once!
Reflecting on my experiences and what I've heard from other work contributors, I'm proposing a new framework for how we can set goals, organize working groups, and a lot more. Over the past couple months with @ode12 @jeremy @psi @piper @LLK and others on Mattermost, I've refined the presentation.
Introducing Kielest (working title). → skip to the proposal
Uh oh. Will this be more work?
Nope. In fact, I believe Kielest will save us lots of time. Here are key outcomes I anticipate within the first few months of kickoff, with minimal effort needed.
An always up-to-date short-term roadmap will be viewable by co-op members
There will be a consistent distinction between chartered and unchartered work
Working groups and co-op members will have an overarching objective to align to
Each working group will have clarity about its purpose
Prospective workers will be able to quickly find and join working groups
A distinction between working roles and advisory roles will encourage the best from both
Overview diagram
So how is this intended to happen? Well, here's an overview diagram of key ideas in Kielest, leaving out details in the proposal so you can get the big picture. Give a gander!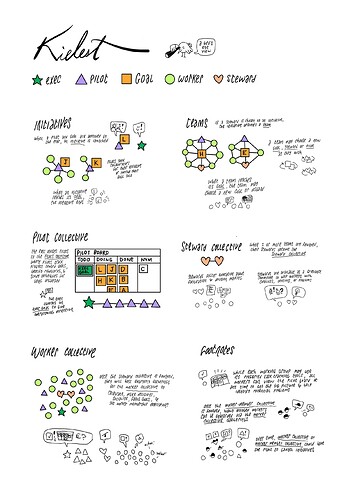 The proposal
Here's the proposal – a more detailed 13 minute read with supplementary materials if interested. Share your thoughts as comments in the doc, or below this post where more folks will be able to reply.
Six calls in September, October, November
The Kielest framework is pitched to @brndnkng in his role as Exec, to current @workers, and to you!
Through September, October, and November, Community Strategist @ode12 and I will be hosting meetups to explore and come to agreement about parts of this proposal. There will be two calls each month, on the first and third Saturdays.